A Benevolent Society Organized By Immigrants and Their Descendants From Cefalù, Sicily
This page will show copies of old documents and pictures of historical interest.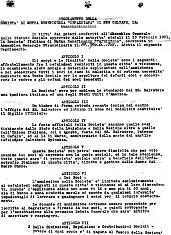 First page of changes in our constitution dated 12 April 1931
The S. S. Cefalù Commission in 1930
Served with the U. S. Merchant Marine Fleet in World War II
Received an award for action against German U-Boats
Photograph taken in front of the Unione Italiana (Italian Union Hall)
1020 Esplanade Avenue
New Orleans, La.
From 09 March 1914 to 27 May 1914 accounting for payments.